Understanding Breast Density
Breast density reflects the amount of fibrous and glandular tissue in a woman's breasts compared with the amount of fatty tissue in the breasts, as seen on a mammogram. Breast density is determined by the mammogram.
4 Categories of Breast Density
There are four categories of breast density. They range from fatty tissue to extremely dense tissue with very little fat. The radiologist will confirm which of the four categories best describes the density of a patient's breasts. Learn more about breast density →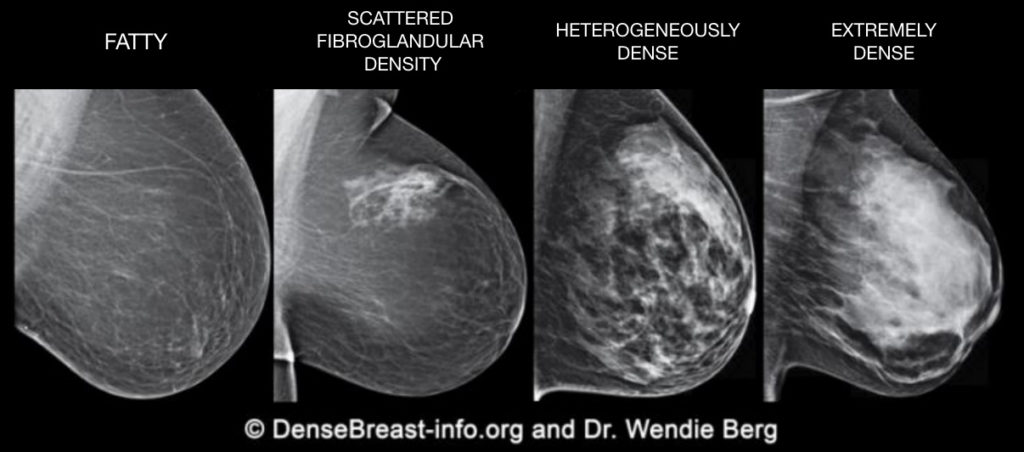 Breast density is often inherited or genetic, but other factors can influence it. Factors associated with lower breast density include increasing age, having children, and using tamoxifen.
Factors associated with higher breast density include using postmenopausal hormone replacement therapy and having a low body mass index.
Breast density changes over time. For many women, menopause may decrease breast density so don't be alarmed if a screening ultrasound is no longer necessary. Patients with non-dense breast tissue don't benefit from the ultrasound.  If you have questions, contact your physician or one of our radiologists. We are happy to answer any questions you may have.
Why Is Breast Density Important?
Women who have dense breast tissue have a higher risk of breast cancer compared to women with less dense breast tissue.
Dense breast tissue also makes it harder for radiologists to see cancer. On mammograms, dense breast tissue looks white. Breast masses or tumors also look white, so the dense tissue can hide tumors. However fatty tissue, on the other hand, looks almost gray. On a gray background it's easier to see a tumor that looks white. Mammography in women with fatty breast tissue is very useful in detecting breast cancer.
Although screening mammography is a great tool in the detection of breast cancer, it has limitations, particularly in women with dense breast tissue.  Women with dense breast tissue are notified of their mammographic density so that they may discuss additional screening options (supplemental screening with MRI or ultrasound) with their providers. 
If your doctor feels that you are at high risk for the development of breast cancer, you may be asked to undergo a breast MRI. However, for most women of average or intermediate risk of developing breast cancer, supplemental screening is performed with ultrasound.
Breast Density Notification
The first state to pass breast density notification legislation was Connecticut in 2009. Many states have followed since then. 
It is now federal law in the United States that the Food and Drug Administration (FDA) develop breast density reporting language that must be included in patient letters and health provider reports.