Percutaneous core biopsies can be performed using mammogram or ultrasound guidance. These procedures are quick, accurate, and minimally invasive. These biopsies are performed in the comfort of our center with little discomfort to the patient. Notification of biopsy results are typically provided within 48-to-72 business hours.
We know undergoing a biopsy is stressful. We will walk you through the entire process from the time you enter our facility until your departure. Once a biopsy recommendation has been made, our dedicated team of radiologists and technologists will support you the entire way. If breast cancer is diagnosed, rest assured that we offer a coordinated multi-specialty approach to care, linking you to dedicated breast surgeons and other health specialists so we can work together as one team.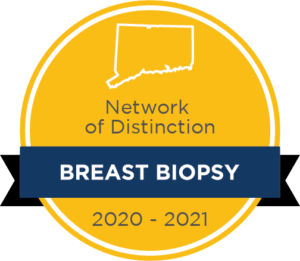 Connecticut Breast Imaging is pleased to be designated as part of the State of Connecticut Health Plan's Network of Distinction (NoD). Our practice has demonstrated an ability to deliver high-quality care for breast biopsy, and this designation helps us to continue to provide top-quality care to benefit the collective health of the members using this new episode-of-care model.
How to Prepare for Biopsies
Preparing for your biopsy:
You may continue with any blood thinners. If you wish to stop taking them prior to the procedure, please discuss this with your referring doctor.
You may eat, drink and take your regular medications on the day of the biopsy.
We recommend bringing a well-fitting bra on the day of the biopsy.
Day of the biopsy:
When you arrive, you will be asked to change into a facility gown.
The radiologist will explain the procedure and answer any questions you may have.
Before starting the procedure, you will be asked to state your name and date of birth for confirmation.
Ultrasound Guided Biopsies
Ultrasound-guided biopsies are performed with the patient lying down on the exam table. Depending on the location of the mass, the arm may be raised over the head. The breast is cleaned and local numbing medicine is administered. A few samples of tissue are obtained with a biopsy needle. After the biopsy is performed, a marker clip may be placed at the site of biopsy. Additionally, a post-biopsy mammogram may be obtained.
Stereotactic core needle biopsies are performed using low-dose x-rays. With the patient sitting on a chair, gentle compression is applied to the breast. A set of low-dose x-rays are obtained through the breast and calculations are made. The breast is cleaned and local numbing medicine is administered. A few samples of tissue are obtained with a biopsy needle. After the biopsy is performed, a marker clip may be placed at the site of biopsy. Additionally, a post-biopsy mammogram may be obtained.
Once the biopsy has been completed, you will be sent home with post-biopsy instructions. These will be explained to you by the radiologist or the breast navigator. 
Keep the Steri-Strips (thin strips of paper tape) in place for three to five days. If they have not fallen off in five days, gently remove them with warm water.
You may shower 24 hours after the biopsy. You may remove the bandage to shower but leave the Steri-Strips in place. If you prefer, you may place a new bandage or band-aid over the area.
You may experience swelling and bruising after your breast biopsy. We will provide you with an ice pack to be used over the biopsy site (20 minutes on / 20 minutes off) as needed. The bruising and swelling will go away over the next few weeks.
Wear a well-fitting bra to help support your biopsy site and for comfort.
A small amount of bleeding and bruising is normal.
If you experience active bleeding from the biopsy site, apply steady pressure with a gauze pad for a minimum of ten minutes. If the bleeding becomes heavy or does not stop, call the numbers provided below.
If you experience pain or discomfort, please know this is normal. You may take whatever over-the-counter medicine you usually take to relieve discomfort.
For the next two to three days, do not:

Lift anything heavy on the side of the biopsy – nothing heavier than a gallon of milk
Swim or soak under water
Do strenuous exercises

Once the biopsy results become available, your doctor or the radiologist will contact you.
After the biopsy is performed, you will be sent home with written post-biopsy instructions.  You will also receive a follow-up phone call a day or two after the procedure from one of our breast navigators.
We know that waiting for the results is not easy. We encourage you to call our office with any questions. Typically, pathology results are back in three-to-five business days.
Once the results are back from the pathology lab, the radiologist or navigator will contact you via phone. If the pathology shows breast cancer, the breast navigator will help facilitate care with the affiliated breast surgeons at Nuvance Health. 
Comprehensive Care: Screening to Biopsy
At Connecticut Breast Imaging, we know how difficult and stressful it can be to undergo a screening mammogram, especially when additional imaging or biopsies are recommended.
If additional imaging or a biopsy is recommended, we are committed to performing these studies in a timely fashion. That means if you are called back for diagnostic imaging, we will work with you to provide all additional imaging as soon as possible.
Also, patients arriving for their screening mammogram or ultrasound appointment at our Riverview office may be offered the opportunity to wait and discuss their results with the radiologist. If an abnormality is noted, we will schedule all additional imaging and interventions immediately and discuss these results with you.