May 17th, 2023 was a beautiful spring day and a memorable one for the doctors, technologists, and staff who were welcomed by municipal leaders at Connecticut Breast Imaging's grand opening and ribbon cutting ceremony with the
Brookfield Chamber of Commerce
. "We're thrilled to open our new Brookfield office, bringing exceptional breast imaging services to the heart of the community. At our state-of-the-art facility, we prioritize patient comfort and care throughout their entire journey. As a patient-centered practice, our exclusive focus is on screening and diagnosing breast cancer and other abnormalities. It's an honor for us to serve the community and provide top-notch care for
3D Mammography
,
Diagnostic Mammography
,
Breast Ultrasound
,
Breast Biopsy
, and
Bone Density Testing
," says Shawn Barto, Manager at Connecticut Breast Imaging.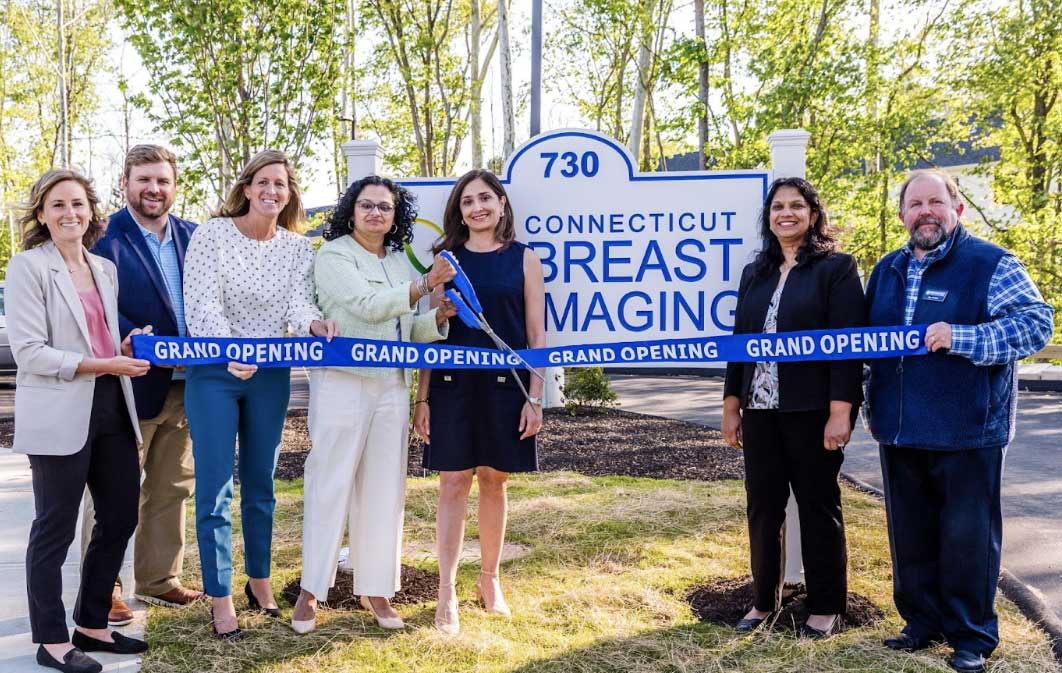 "The ribbon cutting ceremony marks a significant milestone for Connecticut Breast Imaging as we expand our presence and commitment to breast health in Brookfield and the surrounding area. With a team of top doctors trained at renowned institutions like Yale School of Medicine, we prioritize delivering 24-hour results for most exams and procedures. Early detection is crucial in the fight against breast cancer, and new guidelines highlight the importance of proactive screening. We urge all average risk women to prioritize their health by scheduling mammograms starting at age 40. From screening to biopsy, our expert team is here to provide you with unwavering support throughout your journey, ensuring a comfortable and comprehensive experience. Come visit our new office and witness the excellence of our comprehensive breast imaging services," says Dr. Madhavi Raghu, Director of Breast Imaging's Brookfield office.
This special occasion celebrated the opening of Connecticut Breast Imaging''s new Brookfield office, and celebrated the exceptional care and support for breast health needs. The mood was festive as guests enjoyed the opportunity to explore the new, state-of-the-art facility.
Located at 730 Federal Road in the heart of Brookfield's Town Center District, Connecticut Breast Imaging offers something new to Fairfield County, Litchfield County and the entire regional community. "I've learned so much just now talking to their staff. Brookfield welcomes you and wishes you nothing but the best of luck!", said
First Selectwoman Tara Carr
.
Contact Shawn Barto, Manager Connecticut Breast Imaging at (203) 791-9011, visit
ctbreastimaging.org
or learn more on our
Instagram
and
Facebook
pages.